WP2/WB9Z DXPedition to St Croix, U.S.V.I.
---

Page 2 of 2

These are photo's of the 82' VLBA dish at St Croix.
The Very Long Baseline Array (VLBA)

Lori and I took a drive to the most eastern end
of the island on Christmas Eve day to view the
BIGGEST DISH I have seen in person.

The VLBA is a system of ten identical radio telescopes
controlled from a common headquarters and
working together as the world's largest dedicated,
full-time astronomical instrument.

The ten telescopes are located at stations
ranging from the Virgin Islands in the Caribbean
to Maui Kea on Hawaii,
A distance of more than 5000 miles.

This instrument offers scientists the most detailed
views of celestial objects available from any
telescope on Earth or in space.

If your eyes could perceive comparable detail,
you could read a newspaper in New York
while sitting in Los Angeles!

VLBA Antenna Locations

St. Croix, Virgin Islands

Hancock, New Hampshire

North Liberty, Iowa

Fort Davis, Texas

Los Alamos, New Mexico

Pie Town, New Mexico

Kitt Peak, Arizona

Owens Valley, California

Brewster, Washington

Mauna Kea, Hawaii

These 82-foot-wide (25 meter) dish antennas
collect the radio waves coming from astronomical
objects and direct them into the radio receivers.

The fully-steerable, advanced-design antennas
weigh 240 tons each.

When Aimed straight up, their tops are
nearly as tall as a 10-story building.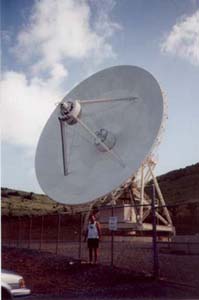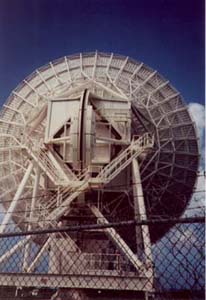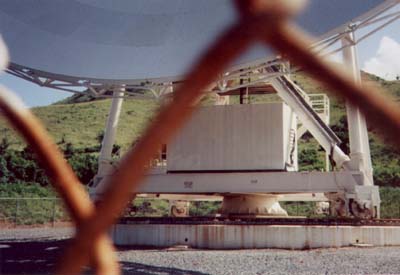 Just mount your antennas to the roof.
This would turn the entire house around!!!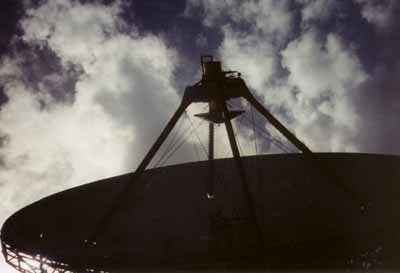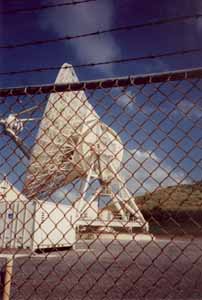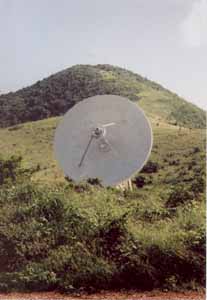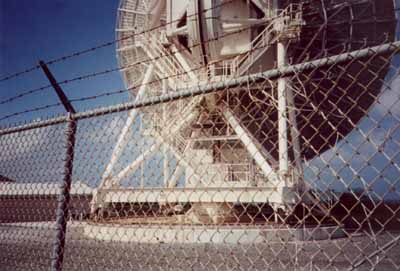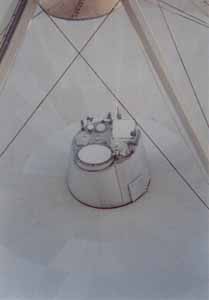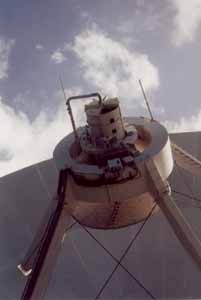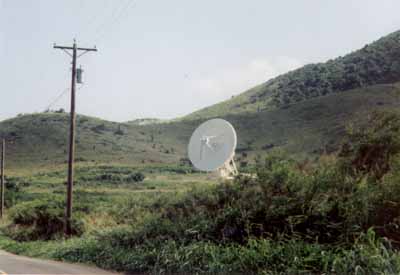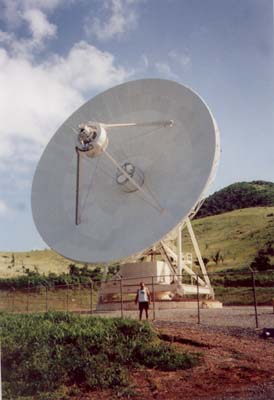 Jerry WB9Z pictured below the dish.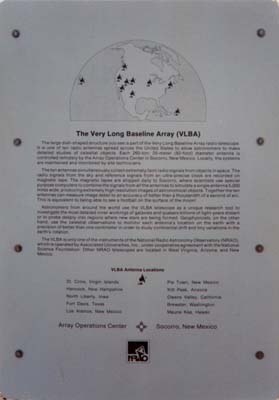 This is the sign on the fence at the dish site
showing the location of all the dishes in the array.

---
This is all of the of the photos of the VLBA dish at St Croix.
Click here to go back to page 1
The operating position at WP2/WB9Z.
Back to page 1 of 2.

Click here to E-Mail
comments to Jerry WB9Z
Thanks for viewing these pages!
73' and best DX!!!