---

- W9AZ DX PACKET CLUSTER -
KARS Wide Coverage
AR-Cluster
RF DX Packet Cluster
at 300 feet
and Telnet DX Cluster

W9AZ RF/Telnet DX Packet Cluster
Telnet DX Cluster w9az.ddns.net

KARS RF DX Packet Cluster pictured below
145.530 mHz
Running the very latest version of Windows© based AR CLUSTER©.

Use this AR Cluster© On-Line Users Manual
The AR Cluster© Users Manual is local here at w9az.com - "Click Here"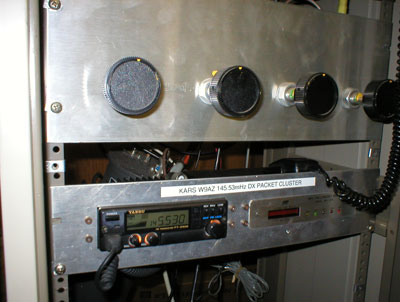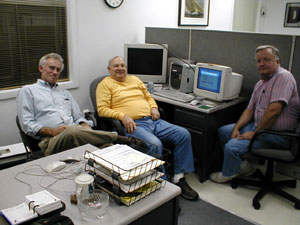 W9IE, W9PA ex(W9ZRX), and K9NR.
Pictured above are Ken W9IE, Dave Zeph W9PA and Don K9NR.
(W9PA drove all the way up from Indianapolis to set up the W9AZ AR Cluster)
Thanks so much Dave. We realize you have saved us weeks of experimentation to "get it right!"
This state of the art system at 300 feet features a direct T-1 connection via high speed spread spectrum link.
---

Software Downloads that utilize DX Packet Cluster
Download these "free" software packages now and make full
use of the W9AZ Cluster.


CC User by VE7CC the author of CC Cluster
CC User is a full featured Telnet and TNC program for use with CC Cluster , AR Cluster , DX Spider , CLX, DxNet, or WinCluster Nodes.
32 Bit Windows Program that allows "point and click" setting of node parameters. Runs under WinXP/2000 and later versions of Windows.
[Download Page]



ClusterMaster
Written by Tony I0JX
ClusterMaster operates in MS Windows© 3.1 / 95 and 98
((( Download no longer available but Tony does support with updates listed below ))).

ClusterMaster connects from your TNC
and/or via Telnet On-Line!

Keeping Cluster Master updated
the most recent PREFIXES.TBL file dated 01 January 2008
the most recent DXCC.TBL file dated 01 January 2008

Click Here for I0JX Web Site at QSL.NET


XMLog
Written by Michael McAmis W1ECT
XMLog is an amateur radio logbook system for Windows systems through Windows 7.
There is no charge for using XMLog and no limitation on its non-commercial distribution.
Permission to distribute XMLog for profit is prohibited.

XMLog Features:
- Flexible log searching
- Awards tracking
- Callbook lookups
- Label printing
- Log importing
- Packet Window
- PacketCluster Spots
- CW keyboard
- CW messages
- Internet

Download XMLog here
Click Here for W1ECT's XMLog


Writelog for Windows
WriteLog for Windows combines the convenience and ease of use of Windows with the performance and features required by the top contest operators. No other package matches WriteLog's support for CW, Phone and RTTY contesting.
Whether you are a casual contester who only makes a handful of QSOs, or one of the big gun multi-ops that demands full networking and spotting support, WriteLog has the score improving features you need.
Order Writelog for Windows at the http://writelog.com/ web site, click Ordering.
(Writelog for Windows is the preferred contest software of the majority of KARS seasoned contesters)


N1MM Free Contest Logger
The N1MM Logger is a freeware program designed to do contest logging and some general logging.
It is not a general logging program with award tracking etc. but is mainly a contest logging program.
Check the Features listing.
Check out N1MM's features at the http://www.n1mm.com/ web site.