KARS Foxhunt Photos - September 3, 1998
---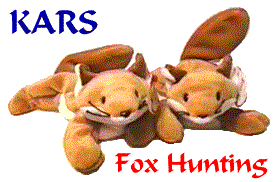 Photos courtesy of Clay, N9IO.
This years foxhunts have been fantastic,
I honestly wish we could do this weekly !!!
Anyone inerested in foxhunting with KARS?
Give us a call on the repeater and come on out.
You're more than welcome!
The October hunt will be on a Saturday.
Specifics at the bottom of this page...!!!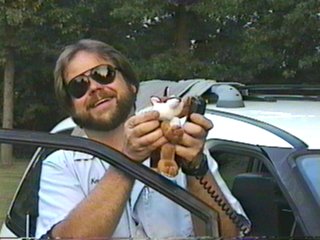 This is Kevin, N9REG. "The Fox" for September.
Or is it the little furry guy at the microphone?
Thanks Kevin, Great hunt !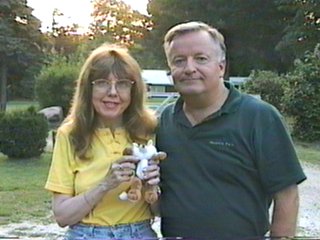 Billie, KF9IF and Don, K9NR were the #1 Foxhunting team.
This happy couple met on ham radio.
Today is their 4th Anniversary.
HAPPY ANNIVERSARY
Billie and Don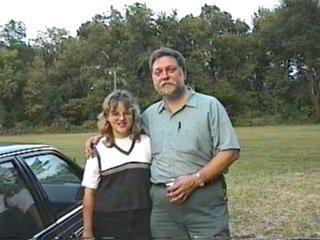 Crystal, W9IOU and "dad" Clay, N9IO were the #2 Foxhunting team.
Camera shy "mom" Cindy, N9IOQ came along for this one.
"We were literally on Billie and Don's bumper
driving down the lane to the fox's den".
"We all met from opposite directions,
stopped and looked at each other.
Billie did'nt say a word,
but she looked like the cat that ate the mouse!
I touched the gas and edged forward,
just then Billie turned and
beat feet down the lane after Kevin.
Sneaky lady that Billie!"
This was close. I love to foxhunt !!!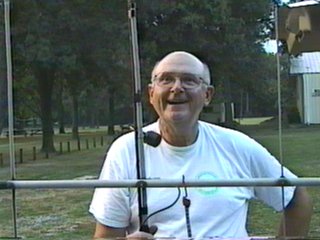 KARS President Will, K9IFO was the #3 Foxhunter.
Will informed us that this site Kevin chose to hide
at the Nazarene Camp in Aroma Park, IL is where
the fox hid on a KARS foxhunt
in September or October of 1956.
Just a little tid-bit of KARS long history. Thanks Will...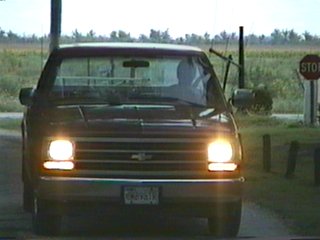 Greg, WB9STR was the #4 Foxhunter.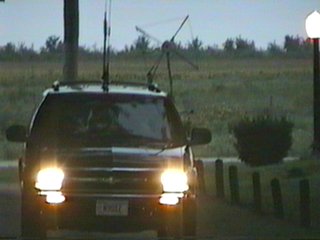 Bill, N9QXZ was the #5 Foxhunter.

Chip, K9IOC and Michelle say they'll be back next month.
The will be on (Saturday) October 10th at 1 PM.
Starting from the Meadowview parking lot in front of Big Lots.
This will give us more daylight hours
to hunt as we get closer to fall.
We're also hoping that more hunters will come
out that can't make it on weekday evenings.
---

E-Mail Photos to

webmaster@w9az.com
Latest update September 5, 1998
---

This website is written in FRAMES.
If you are viewing this page as a separate page
please CLICK HERE for the KARS HOMEPAGE !
This usually occurs when you follow a link
from a search at a search engine website.