KARS Foxhunt Photos - Sept. 19, 1999
---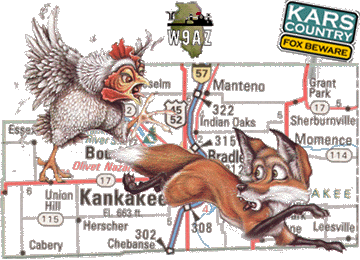 ---
OUR NEXT HUNT IS
(Sunday) OCTOBER 24th
2:00 PM start time
*** Please note that we have switched
back to weekend afternoons for
the remainder of the year due to
a lack of daylight during the hunts.
See the Foxhunting Main Page for directions.
---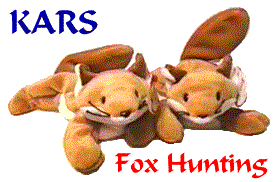 Photos courtesy of Billie, KF9IF.
Below are many photos of
KARS 6th Foxhunt for 1999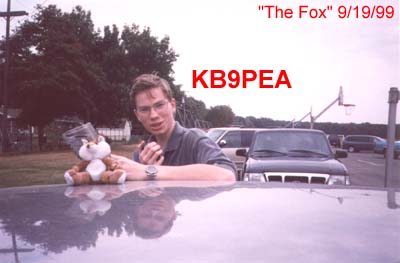 Krister KB9PEA was a great fox
in the September 19th foxhunt!
Krister led our foxhunting bunch
to the parking lot of Limestone
School, out west of Kankakee.
This was Krister's first time to
play the role of the "Sly Fox"
and by all indications his choice of
hiding places served him well as
you will find as you read further. . .
CONGRATS KRISTER
ON A JOB WELL DONE!
KARS President John WD9AYI has
volunteered to be the October "Sly Fox".
Thanks John, we look forward to seeing you.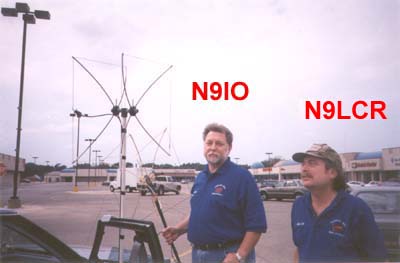 N9IO and N9LCR compare notes and
quad antennas at the starting point.
Jay N9LCR built one of the infamous
2 element light weight fiberglass quad
antennas in kit form by Clay N9IO.
Brief History of the "FIG QUAD":
The quad N9IO is carrying (above) is the
original antenna built for Clay in 1985 by
"good friend" and long time foxhunter
Charlie WD9FIG of Hammond, Indiana.
Charlie and XYL Midge WD9FIH
used these quads in great foxhunts
held by the Lake County ARC (IN)
in the 1980's winning time after time.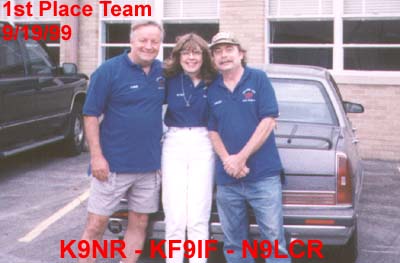 1st place hunting team
K9NR, KF9IF and N9LCR
winner of this month's hunt.
N9LCR's quad was the antenna
of choice for this focused group.
As of the time of this writing
Billie KF9IF has finished her own
quad identical to that of N9LCR's.
Impromptu fox hunts have been
heard emanating from County East.
Competition is getting fiece around
here in the County as interest in
foxhunting continues to grow!
Talk of calling more impromptu foxhunts
is currently being discussed in the area.
QST: (As I am writing this I just received
a phone call from KF9IF and K9NR
informing me there will be an impromptu
hunt this Sunday Oct 3rd around 2PM.
Listen on 146.94 machine for the actual time.
Don K9NR is hiding and Billie KF9IF
is testing her new quad and attenuator.
Anyone wishing to join in are welcome!)
Also, thanks for the photos Billie...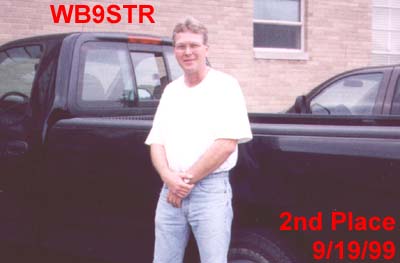 WB9STR was 2nd place.
Greg weapon of choice is a 3 element yagi.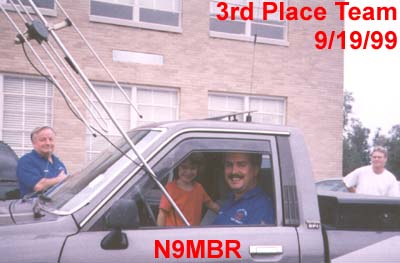 N9MBR was 3rd place.
Bob and Nicki like their yagi also.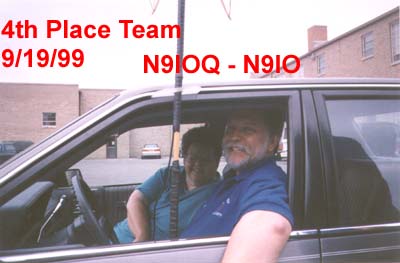 4th place hunting team
N9IOQ and N9IO
bring up the rear in a "RARE"
screw up on N9IO's part.
Let me give you a helpful hint to
successful hunting in Kankakee County.
If you end up on the wrong side of the
Kankakee River you are in big trouble.
((( Consult your map pryer to the start of the hunt! )))
Your initial reading can be a crucial one!
The wrong side of the river can be a 30+ minute goof.
In this case the equipment
did'nt fail, my brain did !!!
Not to worry, "the terminator" will
be back with a vengeance Oct 24th.
Stay Tuned Folks!!!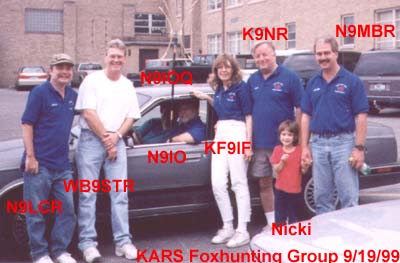 This post hunt photo taken in the
parking lot at Limestone School.

On to Chicago Dough for pizza.
Thankyou to everyone
that come to our hunts!!!
Thanks for visiting KARS Web site
Please don't Forget To
Sign The Guest Book
Before you leave,
We like to hear
your comments...!
---
We are already looking
forward to the next hunt...
Area hams, you're invited to come
join in on the fun and excitement!
Other clubs in the area are also
encouraged to join us.
Reciprocal hunts might be fun!
Give N9IO a call...........146.34 / 94
Or send E-Mail
---
OUR NEXT HUNT IS
(Sunday) OCTOBER 24th
2:00 PM start time
See the Foxhunting Main Page for full info.
---