KARS Foxhunt Photos - August 6, 1998
---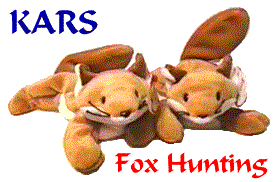 Photos courtesy of Clay, N9IO.
Come join us on the next hunt...
Our group is growing in size and experience!
Clay, N9IO and xyl Cindy, N9IOQ
were the fox for the month of August.
Out in the woods near the State park.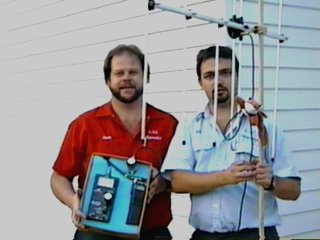 Kevin, N9REG and group are the #1 Foxhunters. (23 minutes)
(Pictured L-R are Kevin, N9REG and Bill, N9QXZ)
Kevin's group included Bill, N9QXZ - Mac, KB9MDL and Jodi.
Note the Beanie Baby Fox on the antenna mast...!!!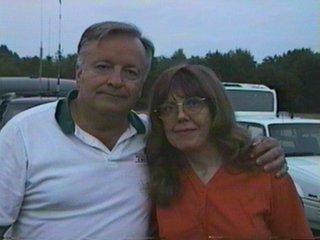 Don, K9NR and Billie KF9IF are the #2 Foxhunting team. (36 minutes)
Chip, N9HIE and Crystal, W9IOU are the #3 Foxhunting team.
(Chip says he now knows where the repeater is located)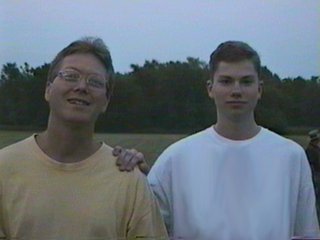 Greg, WB9STR and Krister, KB9PEA are the #4 foxhunting team.
John, KB9QXO and Jim, N9OQE experienced technical difficulties
during the hunt. Both hunters say they'll be back with a vengeance!
(More photos will be added to this page soon.)
I was unable to get photos during the hunt and be the fox
at the same time. Then I took photos later at the restaurant
only to find that there was'nt enough lighting.
Appetites being as they were took precedence over photographs.
The will be on (Thursday) September 3rd at 6 PM.
Starting from the Meadowview parking lot in front of Big Lots.
---

E-Mail Photos to

webmaster@w9az.com
Latest update August 13, 1998
---

This website is written in FRAMES.
If you are viewing this page as a separate page
please CLICK HERE for the KARS HOMEPAGE !
This usually occurs when you follow a link
from a search at a search engine website.