KARS Foxhunt Photos - July 21, 1999
---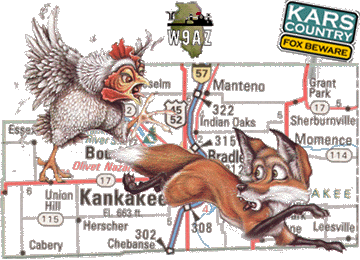 ---
OUR NEXT HUNT IS
(Wednesday) AUGUST 18th
6:30 PM start time
See the Foxhunting Main Page for directions.
---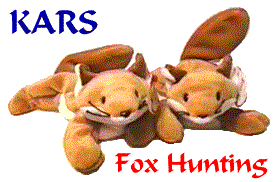 Photos courtesy of Clay, N9IO.
Here are photos of KARS
4th Foxhunt of 1999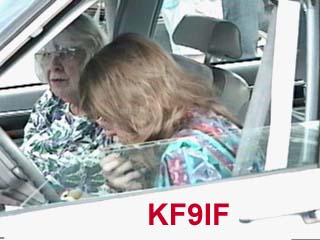 Billie KF9IF (right) and Mother
led the group to a "great" spot in
Momence, IL beside the River.
We were actually experiencing some
"tropo-ducting" on the foxes signal.
The heat and humidity at ground
level and aloft was fairly intense giving
us some strange readings indeed.
GREAT HUNT!

Hunters of June 21st 1999 (L-R)
(Front)
K9NR, KF9IK, N9YNW, N9QXZ, W9IOU, KF9IF.
(Back)
WB9STR, KB9PEA, N9REG, N9IO, Mark, Josh.
1st N9IO / W9IOU team.
2nd N9REG / N9QXZ team
with Mark and Josh.
3rd K9NR / KF9IK / N9YNW team.
4th WB9STR / KB9PEA team.
Krister KB9PEA has graciously
volunteered to be "The Fox" for
our August 18th hunt.
Thanks Krister, I greatly appreciate it!
Thankyou to everyone
that come to our hunts!!!
Thanks for visiting KARS Web site
Please don't Forget To
Sign The Guest Book
Before you leave,
We like to hear
your comments...!
---
We are already looking
forward to the next hunt...
Area hams, you're invited to come
join in on the fun and excitement!
Other clubs in the area are also
encouraged to join us.
Reciprocal hunts might be fun!
Give N9IO a call...........146.34 / 94
Or send E-Mail
---
OUR NEXT HUNT IS
(Wednesday) AUGUST 18th
6:30 PM start time
See the Foxhunting Main Page for full info.
---