KARS Foxhunt Photos - June 8, 2008
---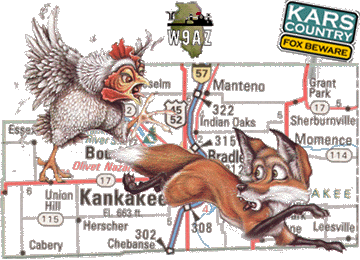 ---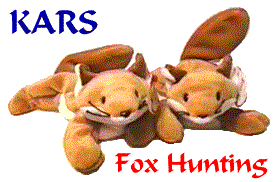 2nd KARS Foxhunt for 2008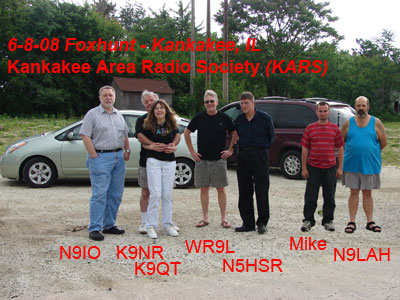 HYBRID HUNT
By Clay Melhorn, N9IO
On a 90° day in Illinois the N9IO Prius "Fox Mobile" has proven to be the vehicle of choice for the hunt.
Sitting for an extended period of time with the A/C on has overheated many a foxmobile.
What an absolute joy this was, I have sat and sweated many times
over the years waiting for my foxhunting friends to find my location.
Barely used any fuel at all, I mean almost nothing.
This is great! I highly recommend the Prius for foxhunting,
Em-Comm vehicle, weather spotter, etc.
This hunt found the fox at an abandoned gas station
in the cleared lot right off I-57 at the Chebanse Illinois Exit.
Crystal, W9IOU says the fox's signal was all over the place, lots of reflections.
Toward the end of the hunt two Chebanse locals stopped by after seeing the
bunch gathering, N9LAH, Phil and Mike, nephew to KARS own N9OE.
Foxhunt Results
#1 - K9NR, Don - 11.7 miles
#2 - WR9L, Greg - 12.1 miles
#3 - W9IOU, Crystal / K9UNO, Rodney - 12.4 miles
(Rider: Mark)
#4 - K9QT, Billie - 13.0 miles
(Rider: N5HSR, Charles)
Fox - N9IO, Clay / N9IOQ, Cindy
Thankyou to everyone
that come to our hunts!!!
Thanks for visiting KARS Web site
---
We are already looking
forward to the next hunt...
Area hams, you're invited to come
join in on the fun and excitement!
Other clubs in the area are also
encouraged to join us.
Reciprocal hunts might be fun!
Give N9IO a call...........146.34 / 94
Or send E-Mail
---
OUR NEXT HUNT DATE TBA
See the Foxhunting Main Page for full info.
---