KARS Foxhunt Photos - May 4, 2002
---

NFW
National Foxhunt Weekend
2002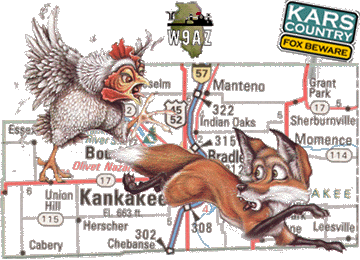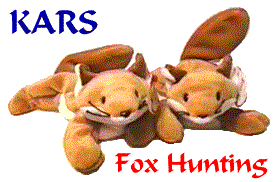 Photos by Billie, K9QT

---
The 2002 season opener
was a great hunt!
KARS Hamfest Chairman Chip, K9IOC
found a great little picnic grove just north
of Aroma Park, IL and the Kankakee River.
This picnic grove turned out to be a
"smoke and mirror trick" on the part of Chip.
From the road this appeared to be a
small area with no patrons present.
So well hidden was the fox that 3 of 4 hunting
teams passed the grove up more than once.
In reality our crafty FOX was "well hidden"
in a bushy area behind the right side of the grove.
This area is so heavily wooded that radio signals
reflect and travel down open roads like a pipeline.
This makes for a very interesting hunt.
Just as you think you have an "easy run"
you find that you've been fooled by the sly old fox!
Strategies change rapidly as you attempt to re-group.
As stated before, hiding a 4-door sedan
this well was a great smoke and mirror trick!!!
Way to go Chip, thanks!

Chip K9IOC was indeed the "sly fox"
at the KARS - National Foxhunt Weekend 2002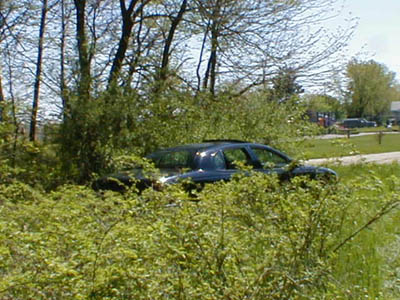 This is a view from the back side of K9IOC's great hiding spot.
KARS Foxhunters finished in the following order
#1 - Don, K9NR
Billie, K9QT
#2 - Clay, N9IO
Cindy, N9IOQ
Crystal, W9IOU
#3 - Bill, N9QXZ
Jim, K9BIG
#4 - WB9STR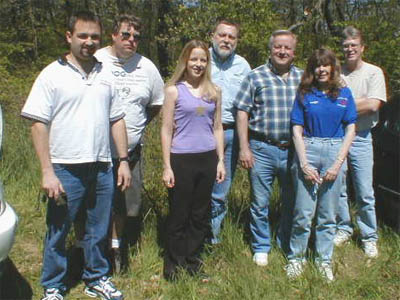 L-R N9QXZ, K9BIG, W9IOU, N9IO, K9NR, K9QT and WB9STR.
My thanks to everyone for coming out and
showing your support in our foxhunting events.
See you at the next hunt!
---
This 2002 NFW Weekend hunt was featured in
CQ Amateur Radio Magazine,
April 2003 Issue pages 52 and 54
---
---
We are already looking
forward to the next hunt...
Area hams, you're invited to come
join in on the fun and excitement!
Other clubs in the area are also
encouraged to join us.
Reciprocal hunts might be fun!
Give N9IO a call...........146.34 / 94
Or send E-Mail
---