KARS Foxhunt Photos - April 17, 1999
---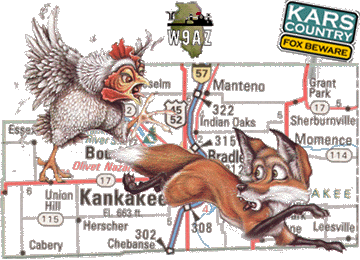 NFW - National Foxhunting Weekend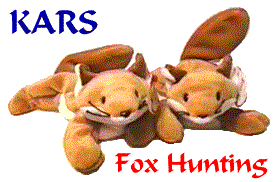 Photos courtesy of Clay, N9IO.
Here are photos of KARS
1999 Foxhunt Season Opener!
This hunt ended up in Kankakee County West
in the rolling open fields of Limestone Township
A couple of miles SE of the Rt 113
and Warner Bridge Rd intersection.
This was a good run for these seasoned
hunters of the Kankakee Area Radio Society.
We had three solid days of rain prior to
the hunt, but we were blessed with a
one day window of dry weather!
These hunters came pumped and ready!!!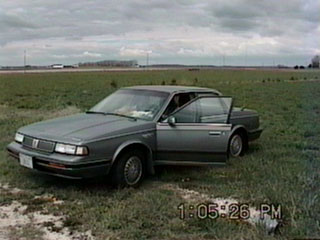 Clay N9IO, Cindy N9IOQ and Crystal W9IOU
(The Notorious "I/O" Bunch)
were hiding here in the foxes den.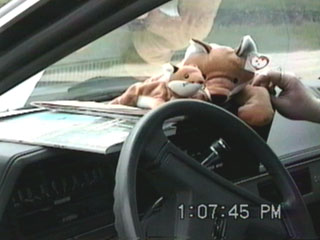 Or, perhaps these two fellows were
the ones reading the doppler article to the
hunters from the May issue of QST.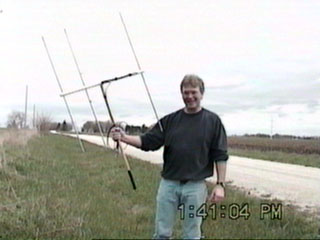 Greg, WB9STR was the first
hunter to find the foxes den!
Greg is sporting a new antenna this year.
And yet, he had'nt mentioned anything
about it to anyone prior to the hunt!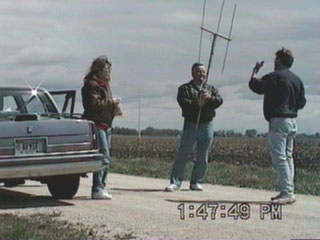 Billie KF9IF (left) and Don K9NR (center)
were second by only minutes.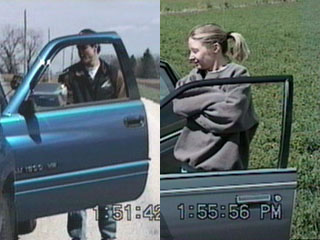 Chip K9IOC (left) and YL Mickey (right)
placed third in this contest of skill!

The Kankakee River played
a major role in this hunt.
Initial antenna bearings showed that
the fox was west of town and could
be on either side of the river...
There were three different possible
highways to take to find this foxes
strategically located hiding place.
Each being close to equal in distance.
The hunters broke up almost immediately,
each used a different route, determined
to be the first to find their friendly foe!!!
Changes in transmitter power and
transmissions of short duration held this
determined bunch at bay only for a short time!
Thanks for visiting KARS Website
Please dont Forget To
Sign The Guest Book
On Your Way Out...
---
We are already looking
forward to the next hunt...
Area hams, you're invited to come
join in on the fun and excitement!
Other clubs in the area are also
encouraged to join us.
Reciprocal hunts might be fun!
Give N9IO a call...........146.34 / 94
Or send E-Mail
---
THE NEXT HUNT IS
(Saturday) MAY 8th
1 PM start as usual
See the Foxhunting Main Page for full info
---