KARS Foxhunt Photos - April 14, 2001
---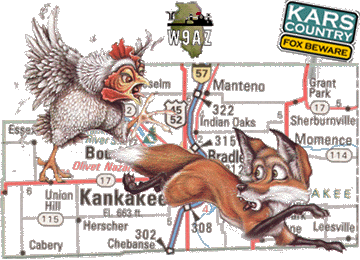 ---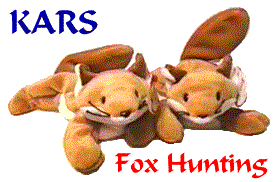 Results of the April 14th Hunt
Clay N9IO and daughter Crystal W9IOU found
an excellent hiding place a mile north of Chebanse
and the Iroquois County line near an aviation
vortac beacon on a dead end adjacent to I-57.
A few of our fox hunters found themselves on
the wrong side on the Interstate at one point,
but corrected in relatively quick fashion...
Billie, K9QT was actually the first in the area on
the correct side of the interstate by about 30 seconds,
but she drove past the well hidden foxes den
between radio transmissions. Next time Billie,
that quad is working well for you...
1st- Don, K9NR 29 minutes, 30 seconds
2nd - Bill, N9QXZ 30 minutes
3rd - Greg, WB9STR 35 minutes
4th - Billie, K9QT 40 minutes
(A technical malfunction of the club camera
produced some bad photos but another camera
is available for the May 5th Fox Hunt.)
See you at the NFW hunt, May 5th
Thanks for visiting KARS Web site
Please don't Forget To
Sign The Guest Book...
---
We are already looking
forward to the next hunt...
Area hams, you're invited to come
join in on the fun and excitement!
Other clubs in the area are also
encouraged to join us.
Reciprocal hunts might be fun!
Give N9IO a call...........146.34 / 94
Or send E-Mail
---