KARS Foxhunt Photos - November 7, 1998
---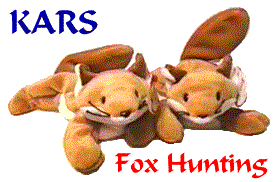 Photos courtesy of Clay, N9IO.
This was another perfect fall day!
We got a little bit of a late start due to
the fact that two of the hunters were hanging
antennas at 115 feet on Don, K9NR's new tower.
Actually it's a good thing they finished today,
it snowed about 2 inches later in the evening.
Pray for clear skies and dry roads gang,
cause we're gonna try to get in another
hunt in a few weeks. Details at the bottom of this page!
Anyone inerested in foxhunting with KARS?
Give us a call on the repeater and/or
E-Mail the webmaster
and come on out for some real fun!
We look forward to seeing you!
"The Fox" for November 7th is
Clay N9IO, Cindy N9IOQ, and Crystal W9IOU.
Also known as the "IO" clan. (Not pictured)
The KARS T-Hunters were eventually lead to
Limestone Park, home of the 1998 World Series
of Little League Baseball.
Chip, K9IOC and YL, Mickey were the #1 Foxhunting team.
Congrats on your first win of the season!
In case you did'nt guess by the callsign,
Chip is also 1/4 of the IO clan.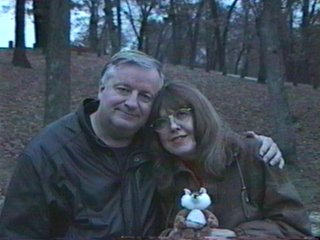 Don, K9NR and Billie, KF9IF were the #2 Foxhunting team.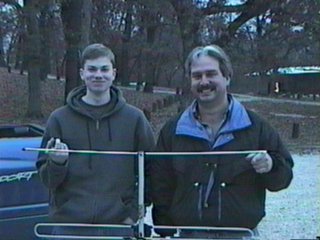 Krister, KB9PEA and Bob, N9MBR were the #3 Foxhunting team.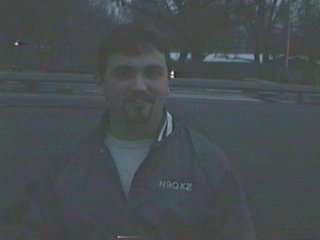 Bill, N9QXZ and nephew Mike were the #4 Foxhunting team.
Jim, K9LYI is the #5 Foxhunter.
(Jim did a great job, hunting with his new equipment!)
The will be on (Saturday) November 28th at 1 PM.
Starting from the Meadowview parking lot in front of Big Lots.
Nov 28th is what we're shooting for.
We'll play it by ear and see what Mother Nature brings!
---

E-Mail Photos to

webmaster@w9az.com
Latest update November 8, 1998
---

This website is written in FRAMES.
If you are viewing this page as a separate page
please CLICK HERE for the KARS HOMEPAGE !
This usually occurs when you follow a link
from a search at a search engine website.