KARS Foxhunt Photos - Nov. 4, 1999
---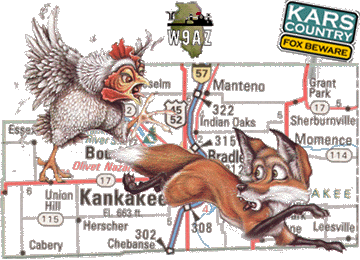 ---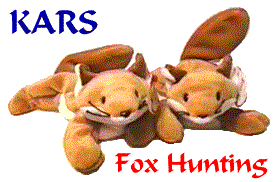 Photos courtesy of Billie, KF9IF.
Below are photos of our
first night time foxhunt.
N9REG give us the blow by
blow story of the win below!
Nov. 4, 1999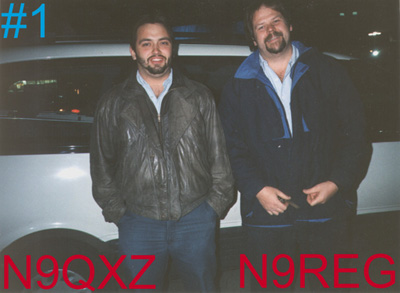 The 1st Place Fox Hunting Team
of Kevin, N9REG and Bill, N9QXZ
take the spotlight in KARS first
night time fox hunt.
Time: 25:01
The 1st Night Fox Hunt.
By Kevin, N9REG
This is N9REG reporting for the winning team of
N9REG AND N9QXZ. No that is not a misprint
N9IO did not win this one. We got a big jump on
the group but then got stopped behind someone
who did not know how to turn right on red.
There was a sign that said no turn on red but
who reads now a days?

From that stop sign we could see all of the other
hunters turning out of the parking not more than
a block away getting the jump on us. In fact we
sat there so long we saw K9NR go north and
then south. When we finally got the green we
went like the wind until one of Bradley's finest
spotted us with my yagi hanging out as I was
making a left turn in a right turn lane.
He was nice and let us go.

At this point we had made our wide turn and were
heading west on 102. We had made it about 1/2
way to the State Park when N9QXZ asked me to
pull over and take a reading sitting still.
So I turned off on a side road and waited.
The fox came to life and we got our reading,
he was west so I started to turn the van around
and backed right into a ditch.

As we felt the tail end sinking fast I floored it and
started to smoke the tires. We were still slipping
backwards and I knew we were done for,
another hunt that N9IO would surely win.
But as our tail lights were sinking and our head
lights were pointing towards the stars some
rubber started to grab and we slowly inched
out of that grand canon of a ditch.

Boy O' Boy that was a close one!

As we flew past the State Park we could see N9IO
taking the scenic route though the park and we
knew we were still in it. We turned south on
Warner Bridge Road and stopped at 113.

We then got a reading heading west and were off
again, but not for long. We saw a small Rd and
turned in to get a good reading and there he was,
THE FOX! By the time we parked and said hi to
Mr. FOX N9IO was pulling in.

I then turned and went to greet
Clay (N9IO) with a big smile and a loud
"WHAT TOOK YOU SO LONG"?

NOT TO BE OUT FOXED

N9REG & N9QXZ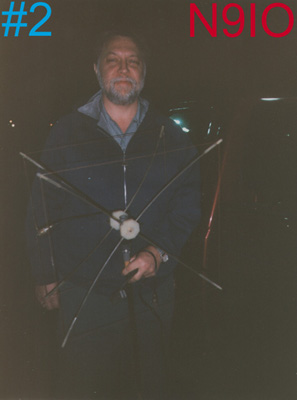 #2 fox hunter Clay, N9IO
gets shut out by 30 seconds.
Time: 25:31
Congratulations Kevin and Bill
on a job well done!
Thanks to my son Chip, K9IOC for
being the fox on this hunt making the
first night hunt such a memorable one!
(You should have cut the old man some slack!)
Great hiding spot in the hunting area Chip!
We had 6 hunting teams on the first night hunt.
Outstanding! My thanks to everyone!!!
Clay, N9IO...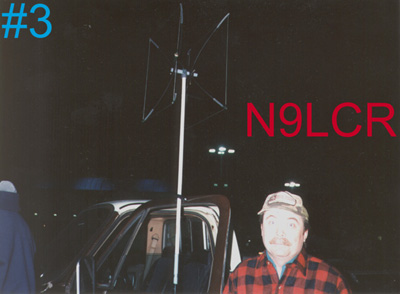 #3 fox hunter Jay, N9LCR did very
well placing a few minutes later.
Time: 30:40
Jay is new to this game, but a natural!

The remainder of the hunters
not pictured were as follows,
#4 - Don K9NR
Time: 34:26
#5 - Greg WB9STR
Time: 44:52
#6 - Billie KF9IF
Time: 75:47
and Chip K9IOC was "The Fox".
---
Thankyou to everyone
that come to our hunts!!!
Thanks for visiting KARS Web site
Please don't Forget To
Sign The Guest Book
Before you leave,
We like to hear
your comments...!
---
We are already looking
forward to the next hunt...
Area hams, you're invited to come
join in on the fun and excitement!
Other clubs in the area are also
encouraged to join us.
Reciprocal hunts might be fun!
Give N9IO a call...........146.34 / 94
Or send E-Mail
---
OUR NEXT HUNT is
Night Hunt # 2 on
(Friday) NOVEMBER 19th
6:00 PM start time...
---
Would you like to foxhunt with our group?

Do you have a comment?

Would you like us to place a link
back to your foxhunting web site?

Just send an E-Mail to
foxhunting@w9az.com
Latest update November 23, 1999
---

This website is written in FRAMES.
If you are viewing this page as a separate page
please CLICK HERE for the KARS HOMEPAGE !
This usually occurs when you follow a link
from a search at a search engine website.