DXpedition to the Spratly Islands
Kinarut, East Malaysia
The Midwest Perspective by WB9Z
Page 2 of 3
Pictured above is (L-R) Stella 9M6JY,
Godfrey 9M6GY and WB9Z.
Stella and Godfrey caught a ride on the daily

flight over and just stopped by to say hi to all.

A special THANKS goes to

Stella

,

Godfrey

, Donald

9M6SU

,

and other members of the

Sabah East Malaysia Amateur Radio Association

.

They sent over a FT-920 for us to use when we
discovered, one out of two of our
FT-1000MP's were damaged from shipping.

Without their help we would have never
been able to keep the two stations on.
Langkah Syabas Beach Resort
Kinarut, East Malaysia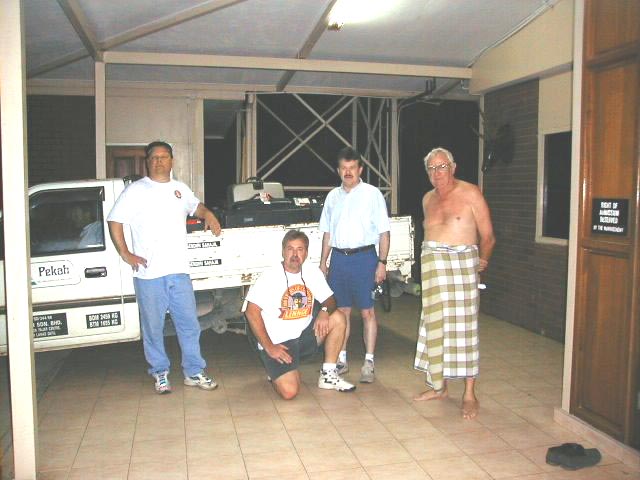 (L-R)N7MB, WB9Z, AF7Y and Peter at 5:00 am..
We are making sure all is packed for the trip
to the airfield and then on to Spratly.
Peter owns the Langkah Syabas Beach Resort.




He was

VERY

helpful, plus provided us

with transportation on several occasions.

Even though he is not a ham, he has several

ham friends and together they have installed a very

fine station at the resort for visiting hams to use.

His web site is: http://www.infosabah.com.my/sybas
Layang Layang Island
from the air as we approach
Layang Layang is a pristine coral atoll in the
Spratly Islands group, located in the
middle of the South China Sea.

The location of the 9M0M operation .
Layang Layang Island

A closer look from the air
| | |
| --- | --- |
| More of Layang Layang Island from the air. | |
| | |
(Page 2 of 3)
Next (Page 3 of 3)
Back (Page 1 of 3)

---

It is a pleasure for us here at KARS
to bring to you these DXPedition Pages
by Jerry, WB9Z.

Jerry's love of travel,
DX and contest operating
is obvious by the effort he puts
into all of his many ventures!

We hope you will come meet Jerry
where he will be greeting patrons of
the KARS Hamfest on July 8th 2001
in Peotone, Illinois at the
Will County Fairgrounds.

Jerry will have a great picture presentation
for you during the KARSFESTivities
---

Comments on the WB9Z's 9M0M Pages
"The Midwest Perspective?"
E-Mail Jerry, WB9Z
jerry@daca.net

E-Mail KARS Webmaster at
webmaster@w9az.com


This website is written in FRAMES.
If you are viewing this page as a separate page
please CLICK HERE for the KARS HOMEPAGE !
This usually occurs when you follow a link
from a search at a search engine website.