KARS Member Featured
July 2001 QST (Page 89)
Crystal, W9IOU Speaker at
Dayton HamVention 2001
(Youth In Amateur Radio Forum)

---
Listed under STRAYS; Page 89
YOUNG AMATEURS SPEAK AT DAYTON
The Youth Forum at the 2001 Dayton Hamvention,
moderated by Carole Perry, WB2MGP,
attracted an outstanding lineup of enthusiastic
young amateurs. From left to right,
Jonathan Troup, K0DE (age 13)
"My Elmering experience with kids";
Kristin Wilson, KC0INX (age 12)
"The 14er Event";
Benjamin Arthur, KC0ISG (age 10)
"Kids Getting Ham Licences";
Carole Perry, WB2MGP;
Patrick Clark, KC8BFD (age 16)
"APRS - Benefits in Emergencies";
Zane Wruble, W2YL (age 12)
"Collecting Awards" and
Crystal Melhorn, W9IOU (age 15)
"Promoting Ham Radio Through Local Clubs."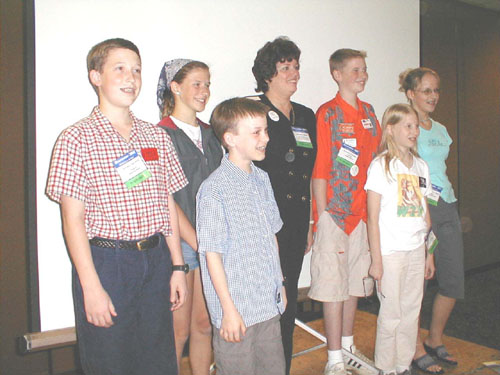 ---
Thanks to "DARA (HamVention), QST,
and most of all to Carole Perry, WB2MGP."
(It was quite apparent to me that Carole cares very
much about Youth involvement in Amateur Radio.
Congratulations on another fantastic Youth Forum.)
Photo by N9IO (Very proud father!)
---

This website is written in FRAMES.
If you are viewing this page as a separate page
please CLICK HERE for the KARS HOMEPAGE !
This usually occurs when you follow a link
from a search at a search engine website.