THE KANKAKEE AREA RADIO SOCIETY'S
17th ANNUAL HAMFEST
KARSFEST 2000
PHOTO PAGES
FROM
SUNDAY, JULY 9
AT THE
WILL COUNTY FAIRGROUNDS
PEOTONE, IL
---
- 2000 Grand Prize Winners -
1st prize - Al Verheggen - Chicago, IL
2nd prize - Bernard Deckelmann, W9SCT - Chicago, IL
3rd prize - Gerald Kray, K9DFC - Butler, IN
---
KARSFEST keeps growing more every year,
and we have your patronage to thank for it!
The Atrium (commercial vendors)
building sold out again!
Attendance was fantastic!
Thanks so much for your support
of the Kankakee Area Radio Society.
We look forward to seeing you next year in
Peotone at KARSFEST 2001 on July 8th 2001
73' from the KARS membership...

---
KARSFEST Chairman Chip, K9IOC (left) and KARS Treasurer Francis, KE9MG (right) take 5 during the KARSFESTivities.

By the way, did you get your KARS "W9AZ" coffee mug? It's a great operating aid and collectable ham radio souvenir.
| | |
| --- | --- |
| Pictured here between KARS Sec Greg, WB9STR and KARS VP Don, K9NR is Bill Williams, W9VQC. Bill held the torch for KARS back in the 1950's and 60's, having held numerous positions within KARS including President. Bill kept the KARS archives in his possession for many years until he passed them onto Don, K9NR just before Bill retired to 4-land in Fort Walton Beach, Florida. | |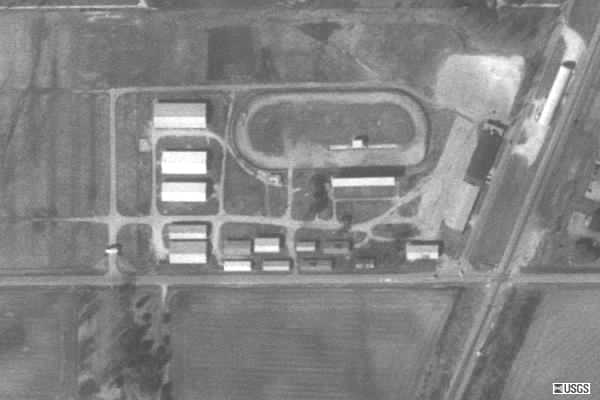 - Aerial View - Will Co Fairgrounds -
From the US Geological Survey
Satellite View of the Fairgrounds - Home to KARSFEST
All of the roads within the fairgrounds were
paved in 2000 with blacktop
after this map from the USGS was taken.
Very nice! No dust!!
Great Location, Great Hamfest!
---

This website is written in FRAMES.
If you are viewing this page as a separate page
please CLICK HERE for the KARS HOMEPAGE !
This usually occurs when you follow a link
from a search at a search engine website.