1998 JOTA Photos
---
Photos courtesy of Kevin Crosby (BSA)
---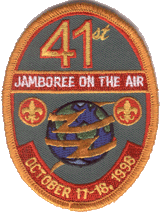 Greg, WB9STR and Bob, N9MBR participated in the
1998 Boy Scout "Jamboree On The Air" by setting up
an HF station at the Thiatiki Boy Scout Camp.

Boy Scouts from Manteno, Bourbonnais, Bradley,
Kankakee, Momence and Peotone contacted
other stations in Arizona, Montana
and England just to name a few.
They also contacted a special event station
in California celebrating the return of the
salmon to spawn!

Greg spent the night camping with the scouts
and said his sleeping bag on the ground was so
comfortable that he may start sleeping on the floor!

Don, K9NR and Billie, KF9IF stopped by to offer
moral support.

A great many scouts found amateur radio to be
very interesting indeed.

Nice work Greg and Bob.
We sure can use a few younger hams!
---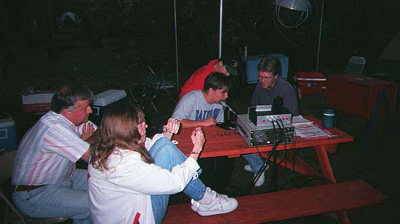 Above are K9NR, KF9IF and WB9STR
with scouts at the mike!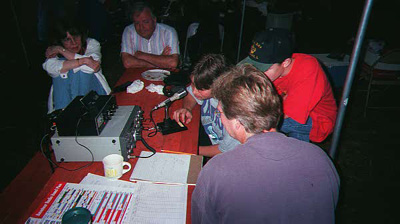 Scouts communicate with the world
from Kankakee, Illinois during JOTA 98!
---
E-Mail Comments to webmaster@w9az.com
Latest update November 18, 1998
---

This website is written in FRAMES.
If you are viewing this page as a separate page
please CLICK HERE for the KARS HOMEPAGE !
This usually occurs when you follow a link
from a search at a search engine website.