KARS Field Day 1999
---

Photos courtesy of N9IO
(Page 1 of 6)
---
Field Day is an Emergency Preparedness Drill
which originated in the early 1900's.
Field Day continues to have the greatest participation
of any contest in North America and is truely
one of amateur radio's greatest traditions.
---
The W9AZ Field Day
exchange at KARS
was (3A - IL)
Un-official Q count was around 1,600
This was one of the best all around
Field Days in years for KARS!
The next 6 pages are of
30 photos taken at the
KARS Field Day site
June 26-27, 1999
---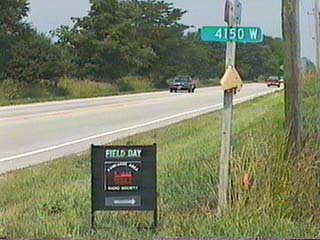 Field Day entrance at Route 102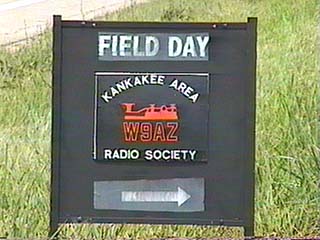 N9MBR's field day sign. Great job Bob!

---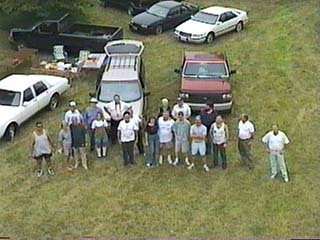 This aerial picture is a portion of those
attending the KARS 1999 field day event.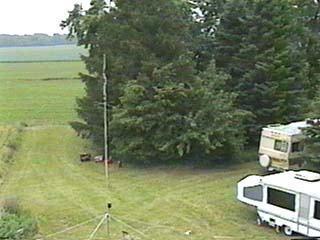 These aerial shots were taken
by Scott KB9NYW
from the bucket truck.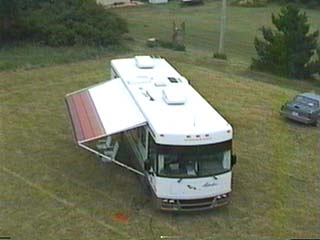 We would like to thank
Taylor-Brown RV Center
in Bourbonnais for allowing us to
borrow the 40 foot motor home.
It was put to good use as the
6 and 2 meter operating position,
as well as one on the HF positions.

---

Here is a list of everyone that participated
in the 1999 Field Day at W9AZ.

AK9F, K9IFO, K9IOC, K9JLK,
K9LYI, K9NR, KA9MNX, KA9VPH,
KA9WZW, KB9MDL, KB9MRS,
KB9NYW, KB9PEA, KE9MG, KF9IF,
KK9R, N9IO, N9MBR, N9OKX, N9QXZ,
W9IOU, WB9STR, WB9WEC, WD9AYI.

Please e-mail the webmaster if I forgot anyone.

---
That's it for (Page 1) of
KARS 1999 Field Day.
---
Click here for (page 2 of 6)
of KARS 1999 Field Day.
---
Thank you to KARS 1999 Field Day Chairman
Bob, N9MBR for an excellent
field day experience indeed!
As always, a big thanks to everyone
that contributed to the cause!
---
Comments about this website?
E-Mail the webmaster webmaster@w9az.com
Or sign the guest book,
We would love to hear your comments!