KARS Field Day 2001
---
(Page 1 of 5)
---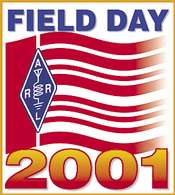 ARRL Field Day Participation Pin
---
Photo pages of KARS
W9AZ Field Day
KARS
The Kankakee Area Radio Society
operated W9AZ (4A - IL)
Field Day 2001 weekend was
June 23-24, 2001
Claimed Score
| | | |
| --- | --- | --- |
| Band | CW Q's | SSB Q's |
| 80 | 42 | 7 |
| 40 | 734 | 53 |
| 20 | 222 | 202 |
| 15 | 16 | 252 |
| 10 | 0 | 28 |
| 6 | 0 | 49 |
| 2 | 0 | 30 |
| Total | 1,014 | 621 |
| | |
| --- | --- |
| Grand total Q's | Grand total Points |
| 1,635 | 5,938 |
Check out the photo pages below of our FD effort.
Like Bob always says about Field Day,
"It's a wonderful thing!"
---
Smith Hill Lives!
The field known to Kankakee Area Hams as
"Smith Hill" has been procured indefinitely!
Thank you Bob!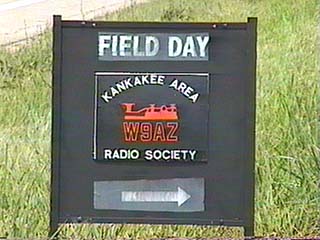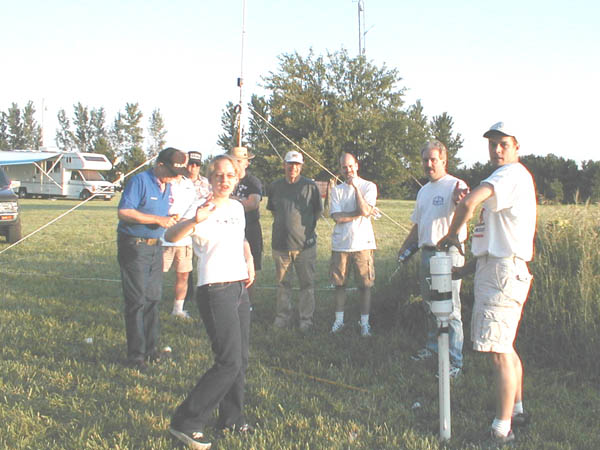 Shown above from L-R are Larry K9JLK, Don K9NR, Francis KE9MG, Crystal W9IOU, Will K9FO, Howard AK9F, Steve Dybedock (visitor), Bob N9MBR and Chip K9IOC.
This was certainly a highlight of our FD operation. Howard AK9F purchased a potato cannon or "spud gun" at Dayton HamVention this year hoping to shorten the time required to hang the wire antennas here at our FD site. It turned out to be a major hit! There must have been 30 lbs of spuds launched over the course of the weekend.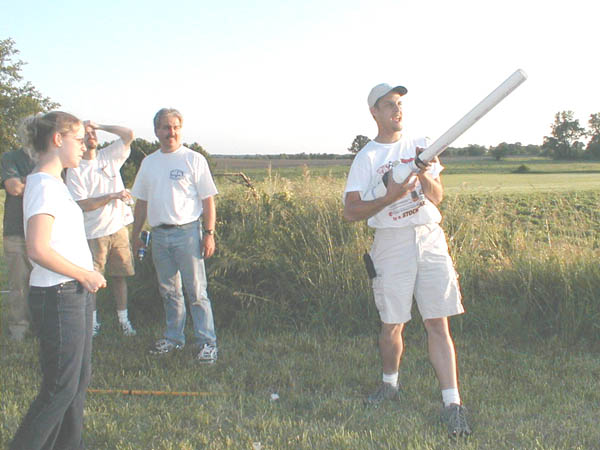 Chip K9IOC shown here firing the potato cannon. This contraption works surprisingly well. Wire antennas in high trees will "never" be a problem again!
We must caution you that this is not a toy and
should "ONLY" be operated by an adult
with the understanding that this can be
dangerous if used improperly!
---
Page 1
(Page 2 of 5 - AK9F station)
(Page 3 of 5 - N9IO station)
(Page 4 of 5 - K9NR, N9REG-WB9STR)
(Page 5 of 5 - Antennas)
---
KARS 2001 FD Chairman, Bob N9MBR
has put together another very successful
Field Day weekend for the KARS organization!
Thanks Bob!
---
Comments about this web site?
E-Mail the web master webmaster@w9az.com
Latest update August 16, 2001
---

This website is written in FRAMES.
If you are viewing this page as a separate page
please CLICK HERE for the KARS HOMEPAGE !
This usually occurs when you follow a link
from a search at a search engine website.