KARS Field Day 2000
---

Photos courtesy of AK9F, KA9MNX and Velda Christensen
(Page 1 of 8)
---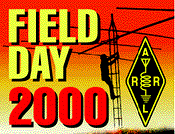 ARRL Field Day Participation Pin
---
The W9AZ Field Day
exchange at KARS
was (3A - IL)
Un-Official Claimed Scores
1576 Q's - 5574 Points
Breakdown of Q's
80m cw 117 - 80m ssb 78
40m cw 378 - 40m ssb 125
20m cw 215 - 20m ssb 35
15m cw 151 - 15m ssb 109
10m cw 0 - 10m ssb 197
6m cw 2 - 6m ssb 158
2m cw 0 - 2m ssb 9
Emergency power - 100 pts
Visitors to FD Site - 100 pts
Publicity - 100 pts
---
This year we were certainly roughing it
in three air conditioned motor homes.
Perhaps one of two statements apply:
a) We're getting older.
b We're getting better.
Personally I'm opting for the latter!
Fortunately we were able to set-up
and take-down under dry conditions.
It was the in between all day Saturday
and Saturday evening in a constant
downpour of rain that made us
thankful to be already set up in dry
self contained motor homes...
This Field Day was a very good time indeed!
Probably one of our best overall
scores in recent years...
---
The next 8 pages are of
42 photos taken at the
KARS Field Day site
June 24-25, 2000
Thanks go to AK9F, KA9MNX and
Velda Christensen for all the photos.
---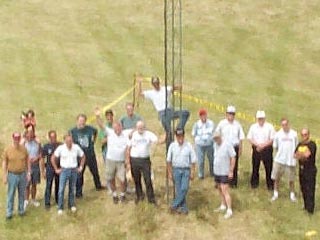 KARS 2000 Set-up crew left to right.
K9CS, N9MBR and Nicki, WD9AYI, KA9MNX,
N9IO, K9IOC, K9NR, WB9STR, K9FO,
WB9WEC, K9JLK, Velda, AK9F,
KE9MG, KK9R, KB9PEA, N9OKX.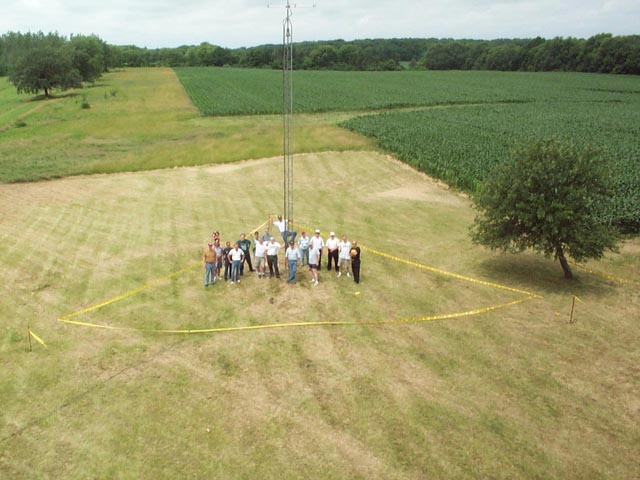 Isn't the country beautiful out here in Kankakee County?
Yes places like this still exist in Illinois.
Unfortunately this may be our last year
at this wonderful Field Day site...
This is the place known to local hams as "Smith Hill".
Note: This aerial shot shows the use of safety tape
around the perimeter of the tower guys.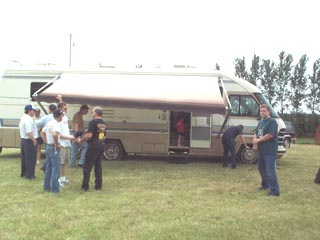 (Thanks once again as last year
to Taylor-Brown RV Center
in Bourbonnais for allowing us to
borrow the 40 foot motor home.)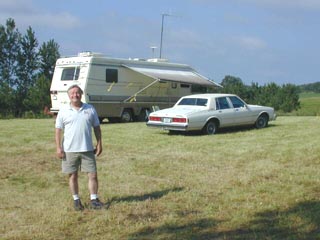 Don K9NR and the 40 footer.
---

A big thank you to everyone participating
in KARS 2000 Field Day event.

AK9F, K9CS, K9IFO, K9IOC, K9JLK,
K9NR, KA9MNX, KA9VPH, KA9WZW,
KB9NYW, KB9PEA, KE9MG, KK9R,
N9IO, N9IOQ, N9LCR, N9MBR, N9OKX,
N9QXZ, N9REG, W9IOU, WB9STR,
WB9WEC, WD9AYI, Kathleen, Sue, Velda.

Please e-mail the web master if I forgot anyone.

---
That's it for (Page 1) of
KARS 2000 Field Day.
---
Click here for (page 2 of 8)
of KARS 2000 Field Day.
---
Thank you to
KARS 2000 Field Day Chairman
Bob, N9MBR for another totally
excellent field day experience!
---
Comments about this web site?
E-Mail the web master webmaster@w9az.com
Or sign the guest book,
We would love to hear your comments!