KARS Foxhunters Featured
May 2001
CQ Amateur Radio Magazine
---
CQ featured KARS Fox Hunters in it's
National Fox Hunt Weekend (NFW 2001) article
Page 32.
A record 8 hunt teams entered in our NFW 2000 Hunt.
The resulting photo was used in the article.
Thanks to "CQ Amateur Radio Magazine"
and Joe Moell, K0OV
We appreciate the notoriety very much!
---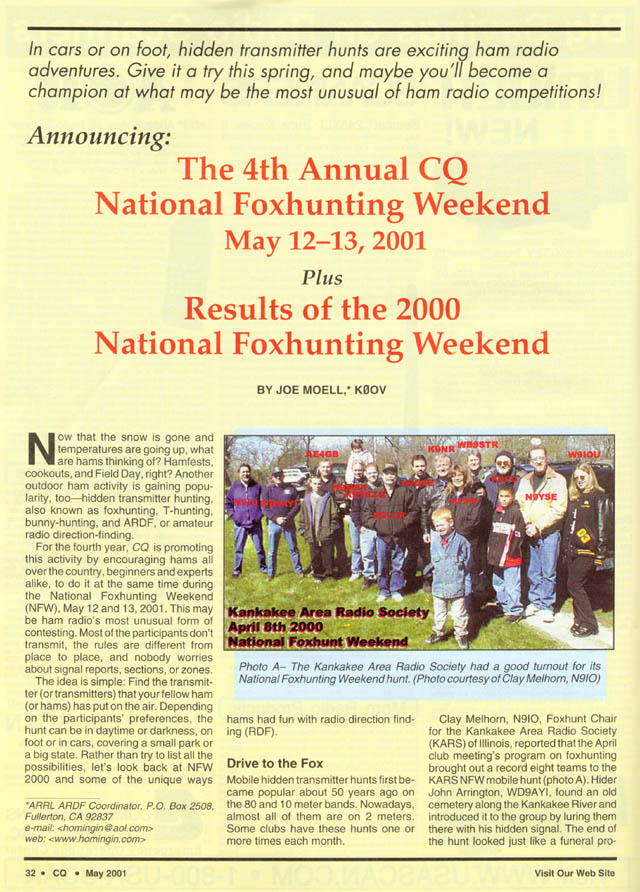 ---
Area hams, you're invited to come
join in on the fun and excitement!
Other clubs in the area are also
encouraged to join us.
Reciprocal hunts might be fun!
Give N9IO a call...........146.34 / 94
Or send E-Mail
---
Would you like to foxhunt with our group?

Do you have a comment?

Would you like us to place a link
back to your foxhunting website?

Just send an E-Mail to
n9io@arrl.net
Latest update March 31, 2003
---

This website is written in FRAMES.
If you are viewing this page as a separate page
please CLICK HERE for the KARS HOMEPAGE !
This usually occurs when you follow a link
from a search at a search engine website.