KARS Historical Archives
2008
---

(Page 1)

BBCHS Academic Foundation 2008 Alumnus of the Year
W4HYB Maury Shumaker, class of 1953
[Photo Sue Dybedock, Story N9IO]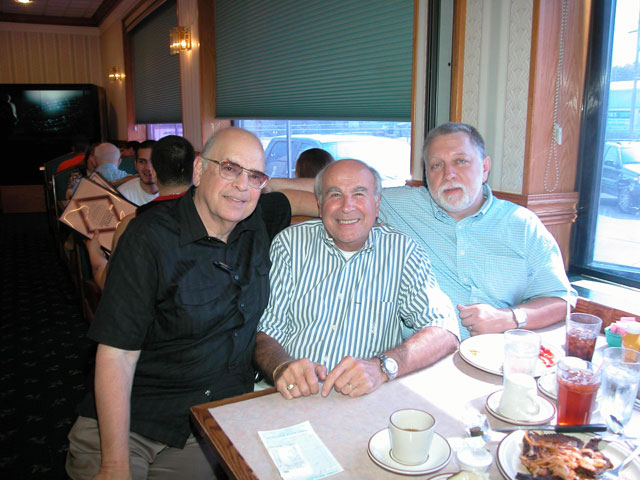 Howard Dydedock AK9F, Maury Shumaker W4HYB and Clay Melhorn N9IO meet at Family Table restaurant 9-21-2008.
The BBCHS Academic Foundation has announced their 2008 Alumnus of the Year choice is Maury Shumaker W4HYB of Manassas, Virginia.
Maury, a graduate of the class of 1953 and past president of the Kankakee Area Radio Society spoke at BBCHS during our historic ARISS contact with ISS expedition 12 commander Bill McArthur KC5ACR on the International Space Station in March 2006.
Maury was Vice-Director of the Space Shuttle Challenger accident investigation committee and was involved in the historic Martin Marietta Titan I and Titan II projects among many others.
Maury was nominated for the award by Jim Schreiner K9BIG, a Science Instructor at Bradley-Bourbonnais Community High School and KARS member.
A dinner was held on November 12th 2008 at Bon Vivant.
---


Page 2 does not exsist yet.
---


The KARS Archive pages display
better in 1024 pixel wide browsers

The KARS web site is written in FRAMES.

If you are viewing this as a separate page,
please CLICK HERE to view the KARS HOMEPAGE.
Then, to view all other KARS historical
archives, scroll down in the menu to
Historical
Archives

These historical archives are the intellectual property
of the Kankakee Area Radio Society, Inc.